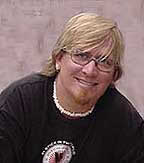 Shannon started playing drums long before he even knew how to spell DRUMS. After his parents got tired of him dragging pots and pans out from under the sink and banging dents in them with whatever he could find, they finally bought Shannon his first drum kit from Montgomery Wards, a long way from the DC kits that Shannon plays today
"I performed my first live appearance when I was about 13 years old with my Dad's 50's rock band, "Yesterday". I worked on several projects and recording sessions with him all the way through school until I graduated and wondered off into the sunset to chase my dreams. In addition to that, I performed in my Jr. Hi and High School bands, playing just about everything in the percussion lineup until I settled on the quads. (I still love em!) On my off time I played with several high school bands with most of my influence from legendary groups like Journey, Boston, Motley Crue, and so on. As my musical interests grew, I learned to appreciate other types of music. I began to play with jazz and big band projects, theater and musical ensembles, and eventually I ventured into the Country market where I found my home".
Shannon has performed and recorded with such great Texas Country Music acts such as Derringer, The Sheila Marshall Band, BadLandz, Tim Nichols and Common Cents, the Mel Garrett Band, Joe Kory and Renegade and more. While playing with these great bands, Shannon also shared the stage with such great Country acts like Diamond Rio, Mark Wills, Mark Chesnutt, Doug Stone, Tracy Lawrence, Chris Ledoux, Daryl Worley, Blake Shelton, Perfect Stranger, Merle Haggard, Ty Herndon, Lonestar, Ricochet, Larry Gatlin, Dan Seals, Eric Heathery, Kenny Chesney, Randy Travis, Trisha Yearwood, Gary Stewart, Neal McCoy, Tanya Tucker, Sammy Kershaw, Alabama... and more.
Shannon is now happy to announce that he has moved into a whole new level of performance...Christian and Gospel. You can find Shannon performing with the Second Baptist Church Houston, North Campus. (Kingwood) orchestra/choir.
"It feels great to be playing music of praise and worship. I feel like I am finally playing for the right reason." Shannon says.
Endorsements include Vic Firth, D.C. California Drums, QwikStix, Levy's Leathers, Soultone Cymbals, E-Pad practice pads